Peace, Neutrality, and Soft Power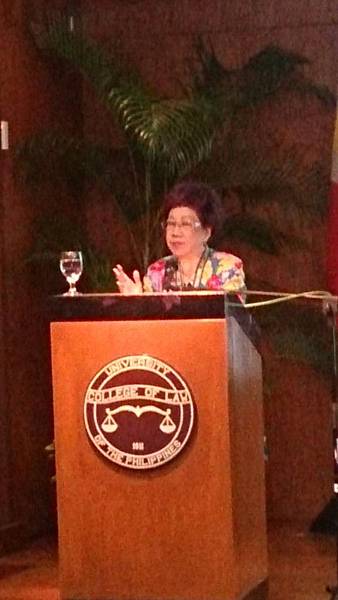 H.E. Lu Hsiu-lien Annette
Former Vice-President of Taiwan, 2000-2008
University of the Philippines,
August 17, 2015
It is a great pleasure to speak to the most prestigious Law School of the University of the Philippines before so many distinguished and intellectual people today. Taiwan and the Philippines are so close to each other geographically and politically. We shouldn't just share the terrible disaster of typhoons. We shall cooperate with each other for marine development as well as for democracy and regional stability.
I. Taiwan-Philippines Relations
In fact, Taiwan was inspired by the Philippines when your great people launched a People Power Revolution, or the EDSA Revolution, in 1986 to overthrow Marcos regime and elected Mrs. Corazon Aquino to become the first woman president in Asia. After 4 decades' struggle and sacrifices, in 2000, Taiwan's people elected Mr. Chen Shui-bian and me to end the 50-year, repressive Kuomintang regime and to lead the nation. Mr. Chen Shui-bian was one of the 15 defense lawyers who defended 8 indicted opposition leaders fighting for democracy in a martial court in 1980. I was the major speaker before some 100 thousand people at a Human Rights Day rally in 1979 and was arrested 3 days later, because of my most inspirational and powerful speech.
The lawyers' defense in the military court was vigorous but the sentence was harsh. I was given a 12-year sentence and eventually spent 5-1/2 years in the prison, as I got a medical parole, due to heavy pressure from international human rights community.
Few would have predicted that one of the defense lawyers and one of the seditious elements together would oust the repressive KMT regime. People's wish is the will of god, and people's power is the core decision for a nation. Your people have set the pace for Asia and have already elected 2 female presidents, I am glad to tell you that next January Taiwan very likely will elect the first female president. Perhaps I can take some credits for the empowerment of women in Taiwan. I was the founder of Taiwan's feminist movement in the 1970s and have devoted much of my life and career for gender equality and human rights.
Speaking of peoples, Taiwanese aborigines are Austronesian peoples (南島語族), with linguistic and genetic ties to the peoples of the Philippines, because their ancestors immigrated from your Batan Archipelago to our Orchid Island 800 years ago. Currently there are about 20,000 Taiwanese people living in the Philippines, especially in Metro Manila.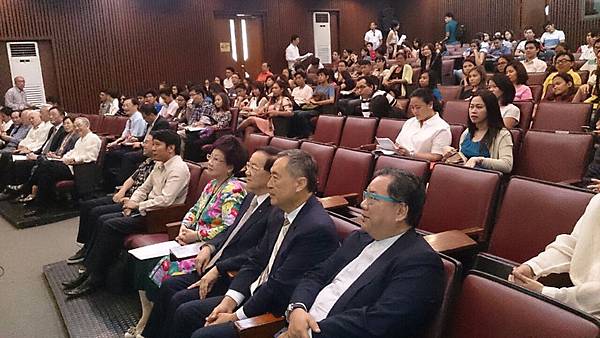 Politically the Philippines maintained diplomatic relations with the Republic of China in Taiwan till 1975. Four years earlier, the United Nations General Assembly passed Resolution 2758 to recognize the People's Republic of China (PRC) as "the sole legitimate representative of China." Despite of the absence of official ties, our two nations remain in good terms, and Taiwan's President Lee Deng-hui still visited President Fidel Ramos in 1994.
Economically, in 2014, the Philippines is the 8th largest export and the 25th largest import partner to Taiwan, whereas Taiwan is the 9th largest export and 3rd largest import partner for the Philippines. Meanwhile, Taiwan is also the 7th largest foreign investor in the Philippines.
On tourism, Taiwan is the 9th largest tourist source for the Philippines, also the Philippines is the 9th largest source of visitors for Taiwan. There are more than 100,000 Filipino workers and migrants in Taiwan. Their annual remittance from Filipino workers in Taiwan has amounted to more than US$100 million.
II. Maritime Disputes
Taiwanese fishing boats can be found operating everywhere in the world's oceans. Different species of tuna migrate from north east through the channel between Taiwan and the Philippines. Tuna is one of the world's favorite fish. It provides a critical part of the diet of millions of people across the globe. But globally tuna populations are in trouble. Many species are critically endangered. There simply aren't enough fish to sustain the world's voracious appetite for tuna. Rampant over-fishing and pirates stealing tuna are pushing the ocean's "natural torpedoes" to the brink of extinction.
Tuna fishing is lucrative and a boat that catches just a few large specimens of tuna will increase income significantly. Conflicts between Taiwanese boats and Filipino fishing boats and the Philippines Coast Guard have thus been escalating in this same area.
It is to be regretted that tensions between the Philippines and Taiwan escalated in the aftermath of the Guang Da Xing No. 28 incident in May 2013, where a Philippine Coast Guard fired at a Taiwanese fishing vessel causing one fatality. Relations were strained until August 7, 2013, when the Philippine National Bureau of Investigation recommended homicide charges against 8 Philippine Coast Guard personnel involved in the shooting.‪ An official apology was made by a Philippine delegation to the victim's family the following day.‪ Subsequently Taiwan lifted the sanctions it imposed against the Philippines and announced that relations between the two countries have normalized.‪We sincerely hope that no more such a tragedy will happen and an amiable fishery agreement will be signed between our two countries soon.
III. Tensions in the Asia Pacific Region
Taiwan, like the Philippines, is located between the world's largest ocean and largest mainland, and occupies a significant position in East Asia and in the center of the first island chain.
Geopolitically and strategically,while the U.S. tries to strengthen the first island chain, China seeks to breach it. If China controls Taiwan, its warships and aircrafts will have free access to the Pacific Ocean and directly challenge the U.S.-Japan-Philippines Alliance. Taiwan is absolutely important to China, U.S. Japan, and the Philippines, and plays a key role in regional stability and economic development.
Historically, Taiwan owned the sovereignty of the Diaoyutai/Senkaku Islands; today it exercises effective control over the Dongsha/Pratas Islands and part of the Nansha/Spratly Islands, including Itu Aba (太平島), the largest of the Spratly Islands in the South China Sea. Taiwan Strait and the Bashi Channel are important pathways for international air and sea transport, with over a thousand planes and vessels passing through these waters and the airspace above daily. Taiwan stands at the pathway between Japan and India as well as the ASEAN, and is pivotal to the freedom of navigation in the Taiwan/Bashi Strait and the South China Sea.
People and governments in our region are troubled by the maritime territorial disputes. In the South China Sea it involves both island and maritime claims. The interests of different nations include acquiring fishing areas around the two archipelagos; the potential exploitation of suspected crude oil and natural gas under the waters of various parts of the South China Sea; and the strategic control of important shipping lanes. Meanwhile, China is building airstrips and ports to militarize the islets in the South China Sea, which worries neighboring countries, including the Philippines, and could probably lead to military conflicts between China and the U.S.
China's construction of artificial islands on disputed South China Sea reefs since 2014 represents Beijing's latest attempt to extend its territory and exert pressure over other countries that claim parts of the Sea. These artificial islands have obvious strategic value. Military installations in the South China Sea would provide platforms for land, air and sea-launched weapon systems They could be a particularly useful supplement to China's anti-access, area-denial systems, namely A2/AD, and could also do more to offset Washington's tremendous basing advantages in the Asia-Pacific theater. The Anti-access, area-denial systems allow Beijing to prevent the U.S. and other countries from approaching to assist defend Taiwan if China takes a military attack over there.
In 2013, China established Air Defense Identification Zone (ADIZ) over East China Sea. About half of the area overlaps with a Japanese ADIZ, even to a small extent with the South Korean and Taiwanese ADIZ. In March 2015, Beijing's new M503 commercial air route next to Taiwan's air force training areas made a step in its quest to gradually change the status quo along China's maritime border. Someday China could also establish another Air Defense Identification Zone over South China Sea to harass the region.
In response to the island-building, the U.S. Defense Secretary Ashton B. Carter called on China to stop construction of new islands and military installations on the new islands. In August, Secretary of State John Kerry urged Beijing to halt all its "problematic actions" in South China Sea to provide an opportunity for diplomacy. A South China Sea free to access is in the U.S.'s economic and geopolitical interests. ‪
IV. China's Silent Annexation of Taiwan
In addition to the disputes in the South China Sea, the relations between Taiwan and China is a potential flashing point in the Asia Pacific. 23 million people in Taiwan see their country a free and independent nation and is in a pivotal strategic position in the region, Beijing claims Taiwan as one of its province and seeks to invade and conquer it by military force. China's menace to Taiwan is also a menace to the Asia Pacific.
China is a big market to Taiwan and other nations, but strangely enough, the Taiwan-China economic relation and Taiwan's economic growth rate have a highly negative correlation: the closer the relation, the lower growth rate. Statistic data show that in the 1960s~1980s, when Taiwan kept close economic ties with the U.S. and Japan, its economy developed fast with an average annual growth rate of 8% or higher. However, since 2008 Taiwan tilted to China and signed 21 trade and investment agreements with China, its economic growth has declined steadily. Taiwan's growth rate for 2015 will be less than 3%.
In short, overdependence on Chinese market while ignoring global markets is the biggest crisis for Taiwan's economy. Many of our workers have lost their jobs as Taiwan's industries move to China and make Taiwan vulnerable to China. Beijing has prevented Taiwan from signing FTAs with other countries and participation in most international organizations, thereby seriously undermining Taiwan's economic development.
China passed the Anti-Session Law on March 14, 2005. Although the law, is relatively short, it was met with much controversy because it legalized the long-standing policy of the PRC to use "non-peaceful means" against the "Taiwan independence movement". In Taiwan, the passage of the law was condemned by officials and politicians across parties. Opinion polls indicated a widespread opposition to the law among the general public. A huge protest march against the PRC law took place on March 26.
One step beyond, on July 1, 2015, the PRC's National People's Congress Standing Committee passed National Security Law, of which Article 11 states that "The safeguarding of national sovereignty, unity and territorial integrity is the common duty of all Chinese citizens, including Hong Kong and Macau compatriots, and Taiwan compatriots," and,
Article 13 states that "Any individual or organization violating this law, by failing to perform national security obligations or engaging in activities endangering national security, shall be investigated for legal responsibility according to law."
Accordingly, China considers Taiwanese to be Chinese nationals and the people in Taiwan are obligated to support and assist the PRC to annex Taiwan. Otherwise they are subject to be charged with legal responsibility. How ruthless and ridiculous it is!
The military balance between China and Taiwan has shifted in China's favor in recent years. The PLA has 2.2 million military service personnel, 11,100 tanks, 2,213 combat aircrafts, 78 warships, 57 submarines, and 269 amphibious assault ships. To sum up, China's rising military strength is a menace not only to Taiwan but to the whole world.
V. Soft Power
To face the unprecedented, multiple challenges coming our way, we have to learn and apply the wisdom of "soft power", which I have been promoting in recent years. Taiwan has learned to project soft power, such as human rights, democracy, love, peace and technological innovation. These values facilitate Taiwan's transformation from a small, poor country under an authoritarian regime into a highly developed country through a peaceful process.
To compare Taiwan with the rest of the world, one will be amazed to discover that the tiny island Formosa in fact is a beacon in the Asia Pacific!
Taiwan's Rankings
Land area

136th

Population

52nd

GDP per capita

38th

Economy

27th

Globalization Index

17th

Global Peace Index

28th

Global Competitiveness

14th

UNDP Gender Inequality Index

2nd (No.1 in Asia)

Overall: 21st
Contrary to the destructive and exploitative nature of "hard power", soft power is constructive and generous in nature. It attracts and draws others into partnership and cooperative relations. The struggle for hard power is often a zero-or even negative-sum game (as in the case of wars), while the developmental and sharing nature of soft power is always a positive-sum game. For the betterment of the world, hard power should no longer be the sole measurement of a country's strength, and soft power should play more important role in the future.
During the Cold War era, Taiwan remained a close ally of the democracies, providing bases for U.S. forces, including missiles which targeted Communist China. It strongly stood with allies and made great contribution to deter the spread of Communism in the Asia Pacific. Although facing China's military threat, Taiwan's soft power such as pop culture, democracy, and high technology have a great appeal to the people in China and won their hearts without firing a shot.
In the wake of the earthquake and tsunami in Japan in March 2011, Taiwanese people contributed generously to the relief of the disastrous areas and Japanese people and government really appreciate our efforts, and bilateral relations have become much closer ever since. This year after the dust explosion accident in New Taipei City, the Japanese came to help in return. This is a good example of how soft power works to strengthen international relations, in an amicable way. You never know when it will pay off, but it is worth doing.
VI. Peace Initiative
It is the 70th anniversary of the end of World War II, which resulted in an estimated 50 million to 85 million fatalities, making it the deadliest conflict in human history. Have we learned anything from the tragedy?
Sadly, we find that on May 9, President Vladimir Putin just threw Russia's biggest military parade since the Soviet Union collapsed to show off new machines of war, including a highly sophisticated tank. Chinese President Xi Jinping was Putin's very important guest. On September 3, 2 weeks away, China will also hold a military parade at Tiananmen Square in Beijing and a series of events to commemorate the victory over Japan in WWII. What messages are they trying to convey? Is the spectre of Communism coming back to threat the world again?
Peace is everyone's dream and so are security and human development. But dream rarely becomes true automatically without hard efforts. It looks that peace is as far as the moon from the earth in East Asia, and in anywhere else. Why so?
It is because we human beings are greedy and all countries are crazy about territorial sovereignty. In recent years, peace and stability have been disturbed mainly because of the implementation of the United Nations Convention on the Law of the Sea, which provides for a 200-nautical-mile Exclusive Economic Zone. Therefore, many countries overlap with each other and confront with each other for their economic marine zones. If all the countries related insist their absolute sovereignty and deny others', how can conflicts be avoided and peace be maintained?
For the sake of regional stability and prosperity, and of the sustainable development of the Pacific Ocean, I have been advocating a Peace Initiative, based on the spirit and principles of the Antarctic Treaty signed by 50 countries. Thanks to it, the continent of Antarctica has been preserved for peaceful and sustainable development.
In order to demilitarize and preserve the disputed marine areas, I propose the Peace Initiative as the following:
1. All armed forces withdraw from 12 nautical miles of the islets so as to restore peace in the area, making it a no-flying, no-fishing, and no-navigation zone within the area.
2. Military and nuclear activities that might threaten peace and stability are not allowed to be conducted in the area.
3. Preserve the disputed islands as international marine conservation zones through cooperation of the claimant states exclusively for peaceful purposes.
The peace initiative earned a timely and fruitful result. In April 2013 Taiwan reached consensus with Japan under the principles of parity and reciprocity. The agreement protects the rights and interests of Taiwanese fishermen operating within a designated zone. An institutionalized mechanism in the form of a Taiwan-Japan Fisheries Committee is established to conduct consultations on other issues regarding fishing grounds, bilateral fishery cooperation and the like.
Currently the Philippines is reviewing a proposed fisheries agreement with Taiwan, which would facilitate law enforcement mechanisms on fishery matters in waters off Batanes but would exclude talks on maritime boundaries. The purpose of this agreement "is to provide guidelines for law enforcement officials on both sides to address the incidents at sea."
The Taiwan-Japan fishery agreement provides a good example. I hope that the fishery agreement between Taiwan and the Philippines can be passed as soon as possible. Marine resources can, and must be shared. More importantly, many species in the oceans are extinct, and oceanic states must cooperate to preserve them.
VII.

Taiwan Aspires for Peace and Neutrality
What would happen if China successfully annexed Taiwan? Should that happen, the Taiwan Strait would become China's inner sea, and it would control Taiwan's sea ports, and these ports would be used for military and strategic purposes. Port of Keelung in northern Taiwan would become PLA Navy's bases to challenge the U.S. and Japan, and the Port of Kaohsiung to control the Bashi Channel. Without a doubt, this would be an imminent threat to the Philippines.
It is clear that the U.S. is implementing its "pivot to Asia-Pacific" (or rebalance) strategy in earnest and is strengthening alliances with its allies (Japan and the Philippines), and cooperation with partners (Vietnam and Taiwan), to cope with China's rising hegemonism in the region. I am sure that the Philippines do not wish to see Taiwan being annexed by China. Rather, a neutral Taiwan will best serve The Philippines' interests. Therefore, a closer cooperation between the two neighbors is urgently necessary.
Taiwan aspires to be a permanent neutral nation. It seeks to safeguard its independence and sovereignty through a self-reliant national defense, democratic institutions and a free economy as well as a new green ecology.
Taiwan will call for China, Japan, the Philippines, and other neighboring states as well as the United States to recognize and support Taiwan's neutrality. Our best strategy is to be "coming closer to the U.S., making friends with Japan and the Philippines, and seeking peace with China." Taiwan pledges to be an active and responsible international stakeholder, proactive in promoting peace and cooperation in the region and help achieve a peaceful solution to the disputes in East China Sea and South China Sea. We aspire to become the Switzerland of the Orient, and a beacon in Asia.
To promote Taiwan's peace and neutrality, we seek both international support and a successful national plebiscite at home. The Taiwanese people's quest for neutrality is a measure of preventive defense to counter any foreign invasion, we believe the affirmative outcome of the plebiscite would receive world support. As a neutral nation, Taiwan will also play an active role for global peace and justice.
Since our official launch on August 14 of last year, the campaign is winning support both domestically and internationally. We have collected tens of thousands of petitions around the country, and it is planned to be submitted to the new government for a national plebiscite next year after the presidential election. In the last couple of months, I also have promoted the ideas of a neutral and peaceful Taiwan in many nations, including Japan, the U.S., Latin American countries. I have visited political leaders, scholars, as well as overseas Taiwanese business leaders in these countries seeking their support. Their feedback has been positive and highly encouraging.
A friend in need is a friend indeed. Today I am privileged to have this opportunity to elaborate the significance of our peace and neutrality policy, also to seek for further cooperation with you. Your serious consideration and generous support would be highly appreciated.
Thank you.